April 17th, 2009
There was a Q & A with the 500 Days of Summer cast and crew at South by Southwest last month. The video of that was recently posted and Flickr user edshull has just uploaded some photos from the event.
Click the photo below for a short slideshow!
March 29th, 2009
LatinoReview has scored some digital camera snapshots of a few posters that debuted at ShoWest in Vegas. There is no word as to whether this 500 Days of Summer poster is the studio's finalized one, but since the poster is due to be released sometime in the next couple weeks, I'd think those chances are high. The poster will still be officially released sometime in the next couple weeks.
Continue reading to view the poster. (It's big.)
March 24th, 2009
"I was standing in line at SXSW to watch 500 Days of Summer, when the guy in front of me in line informed me that the stars of the movie had just arrived. So, I snuck myself in [sic] my camera into the press section (which was way easier than it sounds)."
View the photos on LiveJournal. Continue reading this post for a video interview that took place at the same time.
March 21st, 2009
I just received this really cool vector fan art for 500 Days of Summer. It's large enough that it can double as a wallpaper for your desktop. Thanks, Illi!
If you have anything to submit, please email me!
March 5th, 2009
Fox Searchlight and /film are asking you to vote for your favorite poster for 500 Days of Summer!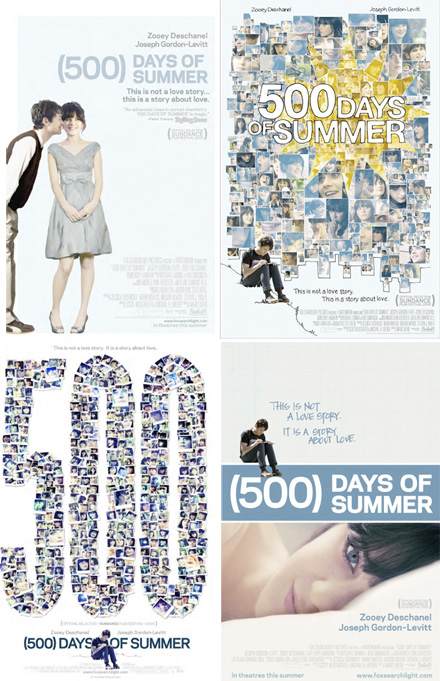 It's a really hard choice for me… I think I like the first best. The third one looks sort of vintage, in a cool way, and the last one is very cute. The second one is the most creative with the sun made out of photos. They all definitely stand out.
Which one did you vote for? (via /film)
Update: voting is closed and the offical poster has been released
March 4th, 2009
This adorable photo is used a lot to promote the film and is found on Fox Searchlight's official page. I was graciously provided with a high resolution copy of it and am passing it on to you!
Click the photo for the super high resolution version.