February 5th, 2009
Cool guy director Mark Webb strikes again! Mark has given The Playlist an exclusive, in-depth look into the music of 500 Days of Summer. The Playlist had no problem emphasizing how great it was for Mark to offer this really cool insight into every song from the film, as well as details about the complicity of licensing.
Mark Webb on The Smiths "There Is A Light That Never Goes Out":
It's an extremely brief but important use. Story point. Originally we were just cleared for the publishing – just so [Zooey Deschanel's character] Summer could sing a line from the song. We ended up playing the song louder on [Joseph Gordon-Levitt's character] Tom's headphones so the audience could here what she's singing along to – which, of course, required a master use license.
Read The Playlist's exclusive article by Mark Webb!
February 4th, 2009
Update: Read and link to our official 500 Days of Summer Soundtrack page. That page contains the official soundtrack track listing, FAQs, and will be continuously updated with new details about the soundtrack. The post below contains the entire list of the songs that play during 500 Days of Summer.
While there is a lot of buzz around the film, the songs of 500 Days of Summer have also getting quite a bit of attention. Jarett Wieselman from nypost.com said "500 Days of Summer Will Have 2009's Best Soundtrack. Mark My Words." From the looks of the killer soundtrack below, I think Jarett might be right.
Besides Sweet Disposition by the The Temper Trap, featured in the 500 Days teaser trailer, the soundtrack features Regina Spektor, The Smiths, Wolfmother, Spoon, Doves, even Simon & Garfunkel among many others.
Slashfilm has done an amazing job of manually tracking down all the songs from the movie to create an unofficial track listing. Thanks to Slashfilm! The soundtrack has been recreated below for your convenience!
We could be hearing the best soundtrack of 2009 soon. What do you think?
February 1st, 2009
While not completely on the topic of 500 Days of Summer, this video shows Joseph Gordon-Levitt during a press day recently at Sundance. Unlike most interviewees, Joe keeps his camera rolling throughout the day. Check out Joe's site, hitRECord.org. (If you're interested in the tunes in the vid, it's John Frusciante – Murderers. Sweet song.)
February 1st, 2009
Conversation With a Fish — On Sundance, Publicity, Marketing, Parties, Film, and Art in interesting times.
This was posted to Joe's official site hitRECord.org. Great video with great content and many different discussions. From the description: Conversations with PaintyHands.com, Cat Solen, Zooey Deschanel, and Marc Webb.
February 1st, 2009
The Hollywood Podcast has just posted another 500 Days of Summer interview with Joseph Gordon-Levitt. It's relatively short but definitely worth a listen. In addition to the 500 Days of Summer discussion, Joe and Tim Coyne get into some discussion about Joe's official site, hitRECord.org, and social media.
Marc gave Zooey and me a start gift when we started shooting 500 Days of Summer. He gave us each a little iPod and he had put a bunch of music on the iPod and it was all songs that he was thinking for the movie. It wasn't necessarily songs he would get to use, although some of them he did get to use, but it was where his head was at musically [...] and he labeled them by scene and by day [in the movie.]
Joseph Gordon-Levitt at the Hollywood Podcast
February 1st, 2009
aloneinthetown, Kate, has created over twenty gorgeous "picspam" photos based from 500 Days of Summer teaser screencaps. I've posted two of the photos below, but these are nothing compared to the rest.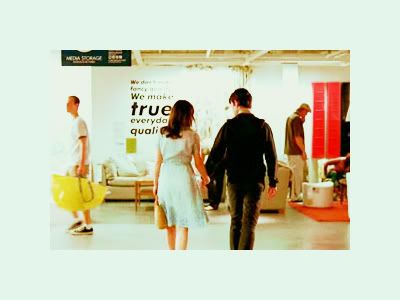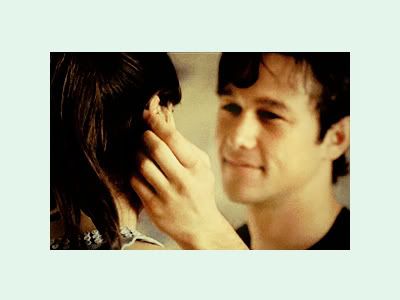 Picspam – 500 Days of Summer on LiveJournal